Jacksonville, Fla. – March 16, 2016 – Mike and Marguerite Mumford, owners of Paul Davis Restoration of North Florida recently donated the cleaning of seating cushions to be utilized in the Buddhist meditation center at the Karma Thegsum Choling Jacksonville, 1258 McDuff Avenue South. The Buddhist meditation and practice organization unites Buddhists and non-Buddhists to gather, learn, discuss, practice, sing, meditate, and serve the community. Study and practice is conducted while participants and devotees sit on cushions, an instrumental tradition at the center.
According to Marguerite Mumford, the cushions had not been cleaned in many years and required special handling and cleaning methods by hand and with the technologically-advanced Esporta Wash System for contents cleaning. The Paul Davis cleaning team used the Esporta for approximately 75 specifically constructed cushions of varying shapes and sizes in squares, circles and rectangles up to three-feet in size. The cushions contained foam inserts and coverings with cotton and polyester fabrics. Some of the cushions needed to be taken out of their covers and cleaned in the Esporta machine and some were hand-cleaned with specific instructions from the manufacturer.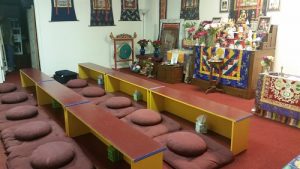 Using the Esporta Wash System, the goods were restored to "food grade cleanliness". The method kills contaminants and ensures the highest level of hygiene with a patented process that kills 99.99 percent of the harmful bacteria that can be found in home and business soft and hard goods and equipment. The Esporta along with Paul Davis' entire line of contents cleaning equipment can clean hard and soft goods to hospital grade cleanliness while providing safe, clean content items for home, business, and public entities. The multi-step cleaning process does not use potentially harmful ozone gases or environmentally hazardous dry cleaning chemicals. The patented, four-step washing process forces detergents and disinfectants into foam and fabrics while killing and removing fungus, bacteria, mold, and germs that can cause odors and infections in items such as plastic, leather, open and closed foams, rubber and safety reflective tape, and athletic equipment along with law enforcement and firefighter gear, among others.
"The donation project is part of the company's charitable giving initiative with a variety of local non-profits. We are very involved with faith -based organizations in all denominations and we are pleased to help the local Buddhist center," said Marguerite Mumford.
For more than 50 years, Paul Davis Restoration has restored residential and commercial properties damaged by fire, water, mold, storms and disasters. The experts at Paul Davis understand the complex process of recovering from property damage and provide complete services; there is no need for the expense and confusion of hiring multiple contractors. Paul Davis is a one-stop shop for disaster damage and restoration. Paul Davis Restoration has over 375 independently owned franchises in the USA and Canada. The professionals at Paul Davis are certified in emergency restoration, reconstruction and remodeling. Visit the website at www.pauldavis.com.